More detail about this product
Safety and fall protection when climbing and jumping all over the place
With Sureplay® Safety, you play it safe when it comes to playground flooring: Our Sureplay® Safety fall protection floor covering is always used where special safety requirements apply and the floor must have a cushioning effect. Sureplay® Safety is hand-made by us on site as a water-impermeable fall protection surfacing. The shock-absorbing, elastic base layer consists of PU-bonded SBR granulates in various thicknesses and grain sizes.
A colourful palette offers a wide range of design leeway
The top layer of the floor covering consists of PU-bonded EPDM granulate and we lay it over the multi-layer substructure depending on the application and requirements. The top layer is available in 24 standard colours that can be combined with each other in different mixing ratios.
Highest safety for the smallest ones
Sureplay® Safety combines many excellent properties: The covering has been tested and certified according to EN and ASTM (European and US standard) with respect to its shock-absorbing character as a playground floor for a drop height of up to three metres. We have also subjected the product to an environmental impact test and had it certified. The threshold values for toy safety are also demonstrably complied with by the individual components of the overall floor covering. Moreover, its fire safety is exemplary: Sureplay® Safety is considered flame-retardant. And it almost goes without saying that this floor is slip-resistant.
Our multi-talent for play and leisure
Sureplay® Safety S is our all-rounder for playgrounds and leisure grounds with play and training areas. The fall protection surface with its high-quality multi-layer structure offers crash protection at a possible fall height of two metres and above and is therefore – where this is required – recommended by us. We can prove the fall protection properties in accordance with EN 1176 by means of a test certificate in accordance with EN 1177. Sureplay® Safety S is approved for indoor and outdoor use and looks great with its 24 colour combinations, which can be mixed in a wide variety of ways.
The system is built up in 3 layers. The lower damping layer is made of water-permeable, closed-cell PE foam sheets of virgin material, the middle layer consists of PU-bound technical rubber granulates with a grain size of 2 – 6 mm. On top of this is a 30 mm thick wearing layer of coloured, abrasion-resistant, UV-stabilised EPDM granules.
Our new product with the Ökotex certificate
Sustainability is the watchword of the day. Recycling is therefore also an important trend in the plastics sector. However, not every customer wants to use recycled products in their projects. Sureplay® Safety NG (New Generation) is a new generation product and completely PAH-free. This means that this high-quality floor covering – a self-development of ours – does not contain any polycyclic aromatic hydrocarbons at all.
The E-TPU (thermoplastic polyurethane) carries the Oeko-Tex® seal. Sureplay® Safety NG is a water-permeable fall protection surface that is manufactured by hand in on-site installation. As a shock absorbing, elastic layer, the base layer is made of expanded, predominantly closed-cell foam particles of thermoplastic polyurethane (E-TPU) using polyurethane binders. The E-TPU used in the base is virgin material that, according to the safety data sheet, contains neither heavy metals nor other toxic ingredients. For this reason, the E-TPU has been awarded the Oeko-Tex® certificate. It therefore exceeds the requirements of the environmental impact assessment according to DIN 18035-6 as well as those of the REACH regulation CR EU 1272. The surface of the covering is classified as class R10 in accordance with DIN 51130 with regard to its anti-slip properties.
The decking system is quality controlled and certified by DIN CERTCO, which applies to all Sureplay® systems.
SUREPLAY® Safety
mulch elastic slabs
Mulch, our premium alternative
The Sureplay® Safety EPDM mulch is shock-absorbing, elastic and yet natural. It can be used as a water-permeable fall protection surface depending on the structure – indoors as well as outdoors. The coloured and UV-stable EPDM mulch is bound with highly elastic PU as an elastic layer and installed in a minimum thickness of 25 mm. Moreover, from a fall height of 2 m, the system is installed with an additional closed-cell PE foam mat, just like Safety S. The wear layer is also available in all EPDM mulches. The wear layer is also available in all EPD colours – just like the other Safety coverings.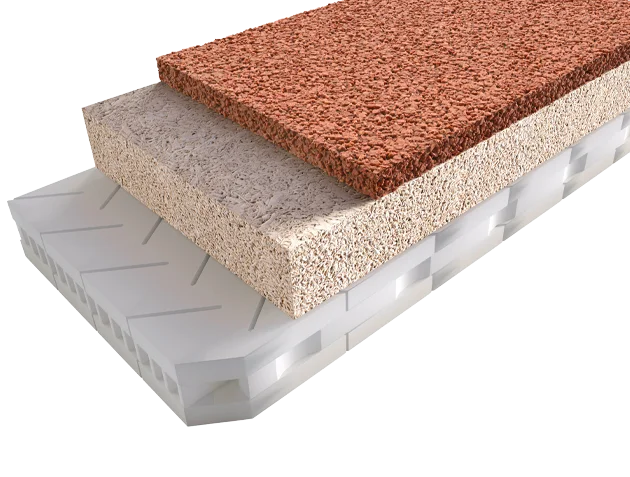 Our low-maintenance waterproof version for indoor use
Hygienic, easy to clean, smooth surfaces – these are the requirements that many customers have when planning indoor playgrounds and climbing zones. Our answer is Sureplay® Safety WU, our waterproof fall protection surfacing. The EPDM wear layer is sealed to be waterproof and transparent, making the floor easy to clean if a small mishap should occur during play. Here, too, there are almost no limits to the colourful design.